July 31st, 2008
---
11:36 pm - la dee da
boredboredbored lemonsqueezy.





You Would Make a Horrible 1930's Wife





You are way too non conformist, independent, and sassy to be an ideal retro wife.

You may be so wild that you aren't even considering marriage!

Good thing we don't live in the 1930s anymore!






TRUE FACT:




You Are Impressionism





You think the world is quite beautiful, especially if you look at it in new and interesting ways.

You tend to focus on color and movement in art.

For you, seeing the big picture is much more important than recording every little detail.

You can find inspiration anywhere... especially from nature.

You Are 80% NYC


You are probably a real New Yorker, though there's a good chance you really live on Long Island.





blahdeeblah
no one is probably looking at this




You Have Your PhD in Men





You understand men almost better than anyone.

You accept that guys are very different, and you read signals well.

Work what you know about men, and your relationships will be blissful.






BAHAHA




You Act Like You Are 23 Years Old





You are a twentysomething at heart. You feel like an adult, and you're optimistic about life.

You feel excited about what's to come... love, work, and new experiences.



You're still figuring out your place in the world and how you want your life to shape up.

The world is full of possibilities, and you can't wait to explore many of them.

Current Location:
my couch, my livingroom
Current Mood:
indescribable
Current Music: movieeeee

January 11th, 2007
---
08:11 pm - I like movies...
Rocky Horror Picture Show
(X) Grease
(X) Pirates of the Caribbean
Pirates of the Caribbean 2: Dead Man's Chest
Boondock Saints
Fight Club
Starsky and Hutch
Neverending Story
Blazing Saddles
(x)Airplane
Total: 3

(x) The Princess Bride
(x) AnchorMan
(x) Napoleon Dynamite
Labyrinth
(x)Saw
(x)Saw II
(x) White Noise
(x)White Oleander
(x) Anger Management
(x)50 First Dates
(X) The Princess Diaries
(x)The Princess Diaries 2: Royal Engagement
Total so far: 14

(x)Scream
Scream 2
Scream 3
(x)Scary Movie
(x) Scary Movie 2
(x) Scary Movie 3
Scary Movie 4
(x) American Pie
(x)American Pie 2
(x)American Wedding
(x)American Pie Band Camp
Total so far: 22

(X) Harry Potter 1
(X) Harry Potter 2
(X) Harry Potter 3
Harry Potter 4
Resident Evil 1
Resident Evil 2
(x) The Wedding Singer
(x) Little Black Book
The Village
(X) Lilo & Stitch
Total so far: 28

(X) Finding Nemo
Finding Neverland
(x)Signs
(X) The Grinch
Texas Chainsaw Massacre
Texas Chainsaw Massacre: The Beginning
(X) White Chicks
Butterfly Effect
(X) 13 Going on 30
I, Robot
Robots
Total so far: 33

Dodgeball: A True Underdog Story
Universal Soldier
(X) Lemony Snicket: A Series Of Unfortunate Events
(x) Along Came Polly
Deep Impact
KingPin
(x) Never Been Kissed
(x) Meet The Parents
(x) Meet the Fockers
(x)Eight Crazy Nights
(x) Joe Dirt
(x) KING KONG
Total so far: 41

(x) A Cinderella Story
(x)The Terminal
(X) The Lizzie McGuire Movie
Passport to Paris
(x)Dumb & Dumber
(x)Dumber & Dumberer
(x)Final Destination
Final Destination 2
(x)Final Destination 3
(x)Halloween
(x)The Ring
(x)The Ring 2
Surviving X-MAS
(x) Flubber
Total so far: 52

Harold & Kumar Go To White Castle
Practical Magic
(x)Chicago
Ghost Ship
From Hell
Hellboy
(x)Secret Window
(x)I Am Sam
The Whole Nine Yards
The Whole Ten Yards
Total so far: 55

The Day After Tomorrow
(x)Child's Play
Seed of Chucky
Bride of Chucky
(x)Ten Things I Hate About You
(x) Just Married
(x)Gothika
Nightmare on Elm Street
(x) Sixteen Candles
(x)Remember the Titans
Coach Carter
(x)The Grudge
The Grudge 2
(x)The Mask
(x)Son Of The Mask
Total so far: 64

Bad Boys
Bad Boys 2
Joy Ride
(x)Lucky Number Sleven
(x)Ocean's Eleven
Ocean's Twelve
(x)Bourne Identity
Bourne Supremecy
Lone Star
Bedazzled
Predator I
Predator II The Fog
(X) Ice Age
Ice Age 2: The Meltdown
Curious George
Total so far: 69

Independence Day
Cujo
A Bronx Tale
Darkness Falls
Christine
(X) ET
Children of the Corn
(x)My Bosses Daughter
(X) Maid in Manhattan
(x)War of the Worlds
Rush Hour
Rush Hour 2
Total so far: 73

Best Bet
(x) How to Lose a Guy in 10 Days
(x) She's All That
Calendar Girls
Sideways
Event Horizon
Home Fries
(x)Ever After
(x) Wizard of Oz
(X) Forrest Gump
Big Trouble in Little China
The Terminator
The Terminator 2
The Terminator 3
Total so far: 78

X-Men
X2
X-3
(X) Spider-Man
(x) Spider-Man 2
Sky High
(x)Jeepers Creepers
Jeepers Creepers 2
(x) Catch Me If You Can
(X) The Little Mermaid
(X) Freaky Friday
High School Musical
Reign of Fire
The Skulls
Cruel Intentions
Cruel Intentions 2
(X) The Hot Chick
(X) Shrek
(X) Shrek 2
Total so far: 87

(x)Swimfan
(x) Miracle on 34th street
(x)Old School
(x)The Notebook
K-Pax
Krippendorf's Tribe
(x) A Walk to Remember
Ice Castles
(x)Boogeyman
(x)The 40-year-old-virgin
Total so far: 94

(x)Lord of the Rings Fellowship of the Ring
Lord of the Rings The Two Towers
Lord of the Rings Return Of the King
(x)Indiana Jones and the Raiders of the Lost Ark
(x)Indiana Jones and the Temple of Doom
(x)Indiana Jones and the Last Crusade
Total so far: 98

BASEketball
Hostel
Waiting for Guffman
House of 1000 Corpses
Devils Rejects
(X) Elf
Highlander
Mothman Prophecies
American History
Three
Total so Far: 99

The Jacket
(x) Fun With Dick and Jane
Kung Fu Hustle
Shaolin Soccer
Night Watch
(x) Monsters Inc.
(X) Titanic
(x) Monty Python and the Holy Grail
(x)Shaun Of the Dead
Willard
Total so far: 104

High Tension
Club Dread
Hulk
(x)Hook
(x) Chronicle Of Narnia The Lion the Witch and the Wardrobe
(x)28 days later
Orgazmo
Phantasm
Waterworld
Total so far: 107

Kill Bill vol 1
Kill Bill vol 2
Mortal Kombat
Wolf Creek
Kingdom of Heaven
I Spit on Your Grave aka the Day of the Woman
The Last House on the Left
Re-Animator
Army of Darkness
Total so far: 107

(x)Star Wars Ep. I The Phantom Menace
(x)Star Wars Ep. II Attack of the Clones
(x)Star Wars Ep. III Revenge of the Sith
Star Wars Ep. IV A New Hope
(x)Star Wars Ep. V The Empire Strikes Back
(x)Star Wars Ep. VI Return of the Jedi
Galaxy Quest
Ewoks Caravan Of Courage
Ewoks The Battle For Endor
Total so far: 112

(x)The Corpse Bride
The Matrix
The Matrix Reloaded
(x)The Matrix Revolutions
Evil Dead
(x)Team America: World Police
Red Dragon
(x)Silence of the Lambs
Hannibal
(x)Amelie
Platoon
Total so far: 117

(x)Memoirs of a Geisha...(unfortunatly)
(x)Monster House
(X)John Tucker Must Die
(x)Honey
(x)Madagascar
(X) Shallow Hal
March of The Penguins
(x)Office Space
(x)The Lake House...as of today
(x)Click
Now Add them up and......


"I've seen 126 out of 250 movies"
Current Mood:
blah
Current Music: none

July 11th, 2006
---
03:01 pm - Babysitting HELL
this is my summer update. for all of you who care.

Okay, so I've been doing lots and lots of babysitting. I acctually really like the triplets. They're a lot to handle, but they're soooo cute. They're three years old and their names are Tommy (Thomas), Harry (Harison), and Aiden.

-TOMMY is the loud most testosteron-i (that sounds like a type of pasta) of the boys, and he likes to bite. hard. He's the oldest, and also wears only blue. and he wants to be a cop. and he wears a cop hat. it's adorable.

-HARRY is the cutest. He wants to be a fireman and his favorite color is purple. He has a lot of trouble staying away from the hot grill. He thinks he's going over to put out the fire but he ends up touchig it and burning himself. He's also the roundest, which adds to his cuteness. He's fairly well behaved and he often helps me know what everybody likes so I know what to do. Also, when Tommy and Aiden are hitting and having "kiss fights" (where they kiss each other by pushing their lips together until someone falls off the bed or gets hurt), Harry is sure to tell me that HE would never do that, and if he did, he WOULD say sorry, because HE'S nicer then the other brothers.

-AIDEN is the youngest and he likes pink. He thinks he is Hercules because he likes saving people. So we (one of his mommys, Robin, and I) thought that they could all go and be in perfect professions: a cop, a fireman, and a doctor. Then Aiden picked up the worms in the driveway and squeezed their guts out. We decided he can't be a doctor.

Yesterday the triplets came over to swim and Tommy jumped in to me and he was all snotty, and when I lifted him up out of the water to hold him, he had snot dripping down his face. Then he looked up at me and said "I love you" and gave me a nice big snotty kiss on the lips and then swam away. blech.
Harry isn't a good swimmer, so we put a floaty on his back and he calls it his motor. Aiden jumped in so many times the water level has gone down.

God I love them.

They also have a sister, who is 6 and named Emily. She's really whiny and annoying. Like last week, we were all playing with stuffed kitties and riding bikes, and Harry had a backback that he wanted his stuffed kitty to go in while he rode. He also but Aiden's toy dagger in it. So while he was putting the black kitty, named Fire, in it; Emily asked if she could put her kitty, originally named Howell after their last name, in it too. Harry said no, and Emily kept screaming
"Saraaaaaaaaaaaaaaaaaaaaaaaaaah! Harry's not sharing!!!"
And I was viewing what was going on, so I told her,
"Emily, you know the rules, if Harry found the backpack he gets to play with it."
She nodded, but then she asked Harry if she could just see the bag. Harry said
"but you cant put that in here!"
She said she wouldn't, but as soon as she grabbed the bag she started putting Howell in it. Harry tryed to grab the bag back, and Emily burst into whiny tears and screaming about how she wasn't going to keep him in there and wah wah wah I'm the only one who knows how to share. God, she's annoying. She's the kind of kid who, when one of the boys isn't giving her her way, she pinches their cheeck really hard and demands it again. Then when they hit her, she cries to me about how they hurt her and she thinks I didn't see her pinch them. She's so bitchy. And I hate it when she whines and cries in her moody little voice. She also goes and pinches herself and tries to blame Tommy. She's soo much worse then the three of them together. I've given her more time outs then Harry and Aiden combined. And about the same amount as Tommy. UUURG!

Anyways, I'm waiting to see if they call me to make me babysit today. God, I hope not. I'm really not in the mood now. Besides, Hannah said I could come over before we go to Allison's. And I want to.

Yeah, so also, On the 3rd, I went with Mrs Pottasch and Hannah to get Allison from the airport. We suprised her. Then we slept over at Allisons and went our seperate ways for the afternoon of the 4th, and I went out to lunch with Spike for his birthday. Then we saw each other again at Josh's and I went into the city with Allison on the 5th and slept over at her appartment. And I hung out at her house for awhile after we got home from the city, before going home because she was meeting her Spanish sister, Julia. She's going to come to school with us for a couple weeks and stay with Allison. I'll get to meet her tonight.

And yes, I plan on spending every waking second with Allison now that she is home.
Current Mood:
meh.
Current Music: Wouldn't It Be Nice//The Beach Boys

02:19 pm - Bizarre Holidays in July
okay...I found this, it's really weird




Bizarre Holidays in July

National Baked Beans Month, National Ice Cream Month, National Tennis Month, Read An Almanac Month, Anti-Boredom Month, and Hitchhiking Month

July 1 is . . . . . Creative Ice Cream Flavor Day and Build A Scarecrow Day

July 2 is . . . . . Visitation Of The Virgin Mary Day

July 3 is . . . . . Stay Out Of The Sun Day and Compliment Your Mirror Day

July 4 is . . . . . National Country Music Day and Tom Sawyer Fence-Painting Day

July 5 is . . . . . Workaholics Day

July 6 is . . . . . National Fried Chicken Day

July 7 is . . . . . National Strawberry Sundae Day

July 8 is . . . . . Video Games Day

July 9 is . . . . . National Sugar Cookie Day

July 10 is . . . . Clerihew Day

July 11 is . . . . National Cheer Up The Lonely Day

July 12 is . . . . National Pecan Pie Day

July 13 is . . . . Fool's Paradise Day

July 14 is . . . . National Nude Day

July 15 is . . . . National Tapioca Pudding Day and Respect Canada Day

July 16 is . . . . International Juggling Day

July 17 is . . . . National Peach Ice Cream Day

July 18 is . . . . National Ice Cream Day and National Caviar Day

July 19 is . . . . Flitch Day

July 20 is . . . . Ugly Truck Contest Day

July 21 is . . . . National Tug-Of-War Tournament Day

July 22 is . . . . Ratcatcher's Day

July 23 is . . . . National Vanilla Ice Cream Day

July 24 is . . . . Amelia Earhart Day

July 25 is . . . . Threading The Needle Day

July 26 is . . . . All Or Nothing Day

July 27 is . . . . Take Your Pants For A Walk Day

July 28 is . . . . National Milk Chocolate Day

July 29 is . . . . Cheese Sacrifice Purchase Day (I bet Chelsea will like this one)

July 30 is . . . . National Cheesecake Day

July 31 is . . . . Parent's Day
Current Mood:
lemon.
Current Music: Build Me Up Buttercup//The Foundations

April 2nd, 2006
---
10:10 pm - concert
The Dream Theater concert was yesterday!
Me and Spike rode the train into and out of the city with suprisigly not much difficulty, (considering we were alone). When we found Radio City Music Hall, the line stretched around the building and three blocks long. Our seats were in the last row (which was about the same distance to the stage as we were at Paul, if not closer). Anyhoo, I felt really out of place because 1) they were all guys, and mostly 40yr old die-hard fans. 2) the only girls were the obvious "I'm only here because of my boyfriend" ones. 3) neither of us were wearing Dream Theater attire like the other 2000 people......who knew that many people liked them nontheless heard of them!?! And finally, I was wearing an Abercrombie shirt I noticed. I am sooo metal material.
The concert was a 20th-anniversary performance, which I hadn't relized before we got there. It was better then I had expected because I thought they were just going to play tracks from the newest album, Octavarium, but they went back to 1989 and played all the good old stuff. They even went back to when the band was called Majesty, and I hadn't heard any of those songs. They played a lot from the album 6 degrees of inner turbulance, (one of my favorites) like goodnight kiss and solitary shell. That made my day, especially because I had just told Spike how awesome it would be if they played that. They also played vacant, from train of thought. They only played three songs from Octavarium, which was good because it's not one of my favorite albums. It was so much better then I'd imagined, and it was fun to see Spike as excited as he was. The encore was his favorite song, Metropolis Pt. 1 so he was insanely excited. Also, because we were in the way back, we could stand up and dance and sit on the back of our seats as much as we wanted. It was fun.

I should probably be writing one of the two papers I have to do this week, or sleeping because we got back at like 2am, which then made it acctually 3am. stupid daylight savings time.

The UN trip is this week with my church, I'm leaving wednesday afternoon through saturday morning. I can't wait, it's gonna be fun.
Current Mood:
excited
Current Music: Solitary Shell//Dream Theater

March 27th, 2006
---
07:31 pm
Pull up iTunes and put it on shuffle. Answer it the following questions, and change to the next song.

What do you think of me, iTunes?

"Let Me Go" ----- 3 Doors Down

THANKS A LOT, iTUNES! After all this time! I thought we had something special!

Will I have a happy life?

"I've got a feeling"-----The Beatles

I've got a feeling I will....

What do my friends really think of me?

"Devil in the wishing well"-----Five for Fighting

aw....sorry guys, I don't mean to be.... :(

Do people secretly lust after me?

"A certain softness"-----Paul McCartney

ummm......

What should I do with my life?

"Something"-----The Beatles

thanks.

Why must life be so full of pain?

"Ebony and Ivory"-----Paul McCartney

This one is so horrible that I'm trying it again....

"Endless Sacrifice"-----Dream Theater

How can I maximise pleasure during sex?

"Drop it like it's hot"-----Snoop Dogg

seriously, this is what I got....

Will I ever have children?

"When the water breaks"-----Liquid Tension Experiment

Will I die happy?

"Crash and Burn"-----Savage Garden

I suck at this....iTunes really does hate me.

Can you give me some advice?

"Confessions"-----Usher

What do you think happiness is?

"You make me feel like dancing"-----Leo Sayer

What's my favorite fetish?

"Blowing Dirt"-----Goodshirt

...that sounds really really....dirty....

Am I a total freak?

"Glass Onion"-----The Beatles

eww, onions.
Current Mood:
kinda saaad
Current Music: Out of my head//Fastball

March 26th, 2006
---
10:22 pm
RULES:
1. list five things you want to say to people but know you never will.
2. don't say who they are directed to.

1. You think you know everything which makes it incredibly difficult to be around you.

2. You think you know me perfectly, but I've changed so much since you stopped caring.

3. I know you get better grades then I do, you don't have to make it apart of every conversation.

4. I hate you more now then I ever did, so stop trying to make things better.

5. You are just an ugly person. Inside and out.

(6) I feel bad about us not talking for so long. I missed you.





I needed that.
Current Mood:
relieved
Current Music: Les Etudes D'Organism//Thinking Plague

06:17 pm - quiz from Chelsea Chelsea bo Belsea
How many keys are on your keychain? 2 house keys, 2 car keys, gym membership, 4 keychains
What curse word do you use the most? damn
Do you own an iPod? yes
Who on your Myspace "Top 8" do you talk to the most? Hannah, Allison, Rachael H, Tess, Josh, Alex, Mallory, Katie S
What time is your alarm clock set for? 7:00
How many suitcases do you own? 2
Do you wear flip-flops even when it's cold outside? yes
Where do you buy your groceries from? Stop & Shop, Stew Leonards
Would you rather take the picture or be in the picture? both
What was the last movie you watched? The Stewie Griffin movie
Do any of your friends have children? no
If you won the lottery, what's the first thing you would buy? Heath Ledger...or a nice new fancy car
Has anyone ever called you lazy? yes
Do you ever take medication to help you fall asleep faster? no
What CD is currently in your CD player? Let it Be, , Chaos and Creation, , Octavarium
Do you prefer regular or chocolate milk? both
Has anyone told you a secret this week? last week they did
When was the last time someone hit on you? well I have a boyfriend, but I also live in Danbury...so basically all the time
What did you have for dinner? we are having tri-colores tortilini
Do you wear hoodies often? I'm wearing one. The Beatles one.
Can you whistle? shut up.
Have you ever participated in a protest? no
Who was the last person to call you? Spike
What is your favorite ride at an amusement park? waterslide
Do you think people talk about you behind your back? yeah probably
What area code are you in right now? 203
Did you watch cartoons as a child? yes, early morning care bears and my little pony, and nickelodean
How big is your local mall? fairly large, we need Holister and Urban Outfitters and Bloomingdales
How many siblings do you have? 3
Are you shy around the opposite sex? sometimes...not currently
What is your biggest regret? I don't know
Have you ever had Jamba Juice? what?
When was the last time you laughed so hard your sides hurt? earlier today with Dennis and Christina
What movie do you know every line to? Finding Nemo, Help!
When was your last plane ride? last Saturday from Puerto Rico: one plane to North Carolina, then to Newark
How many chairs are at your dining room table? 6 and 4 off on the sides
What is your favorite salad dressing? just oil and vinegar and
Do you read for fun? yes, I'm reading three books for fun now
Can you speak any languages other than English? some French and some Swedish
Do you do your own dishes? yes, when I cook dinner
What color is your bedroom painted? light blue
Have you ever cried in public? yes
Do you have a desktop computer or a laptop? desktop
Which do you make: wishes or plans? short-term plans, long-term wishes
Are you always trying to learn new things? yes
Do you shower on a daily basis? yes...except every other when I won't see people for days
Are you currently wanting any piercings or tattoos? well I would like my uneven ear peircings to be fixed...ooh maybe another one on my ear
Do you believe that the guy should pay on the first date? yes, and he did
Can you skip rocks? not well
Have you ever been to Jamaica? no
What to snack on at the movie theaters? those soft pretzels with cheese. or raisinets. or twizzlers. yummy.
Who was your favorite teacher? Mrs Rumpf, Mr. Chong, MRS EYNON, Mr Levy, Mr Street
Have you ever dated someone out of your race? no
What is the weather like? it was nice today, now it's kinda rainy
Would you ever date someone covered in tattoos? um. no.
Do you have an online journal? yes, sadly.
What was your favorite class in high school? Psychology
Do you enjoy traveling via airplanes? not until we're in the air
What personality trait is a must-have in the opposite sex? fun to be around, sense of humor, hot abs (aka Spike)
Have you ever been attracted to someone physically unattractive? yeah once, I think
When was the last time you slept on the floor? the last lock-in at church
What is your favorite alcoholic drink? mango daqaris
Does your closest Starbucks have a drive-thru? no
What is your mother's hometown? Detroit, MI but then mostly Rochester, NY
How many hours of sleep do you need to function? 7
Do you eat breakfast daily? I try to
What was the last thing to scare you? watching The Skeleton Key with Hannah at her house
Are your days full and fast-paced? only at school
Did you ever get in trouble for talking in class? not this year
What is your favorite fruit? ooh umm coconut or oranges or pineapples or watermelon or mangos or avocados or blueberries...basically everything
Do you pay attention to calories on the back of packages? yeah
How old will you be turning on your next birthday? 18: I'll be LEGAL!
Are you picky about spelling and grammar? ummmmmm NO.
Do you believe in life on other planets? I'd like to think there is
Have you ever been to Six Flags? yes, 4 times
Who was the last person to piss you off? Ms McDevitt. die.
Do you believe that God has a gender? it's cooler if she's a girl
What was the last thing you ate? coconut popsicle
Do you get along better with the same or opposite sex? it's the same with both
What did you dress up as for your first Halloween? a dalmation
How did your parents pick your name? they each wrote names on a peice of paper on the fridge and crossed out the ones they didn't like.
Do you like mustard? yes
What do you tell yourself when times get hard? this could only happen to me with my luck
Would you ever sky dive? NOOOOO!
Do you sleep on your side, tummy, or back? tummy and sometimes side
What character from a movie most reminds you of yourself? I don't know
Have you ever bid for something on ebay? yes
What do you think of Angelina Jolie being pregnant? I don't care
Do you enjoy giving hugs? more then I used to
Would you consider yourself to be fashionable? yes, mostly
Do you own a digital camera? yes
If someone you had no interest in dating expressed interest in dating you, how would you feel? guilty
What celebrities have you been compared to? Julia Stiles and various supermodels
What books, if any, have made you cry? I don't usually cry at books-if ever.
Do you think you're attractive? yes
What are you allergic to? penicillian, amoxicillian, mushrooms, and hay
Are you a jealous person? I can be
What's your opinion on sex without emotional commitment? no
Do you ever feel guilty after eating meat? that's why I'm a vegetarian
If you were born the opposite sex, what would your name have been? Alexander
Did you ever celebrate "Pi Day" in school? no
Current Mood:
Spike is here
Current Music: Across the Universe//Rufus Wainwright

March 25th, 2006
---
02:02 pm - some of Chelseas and some of Janes and some of mine
01. Opening Credits: 6:00//Dream Theater
02. Waking Up: Everyday//Goodshirt
03. Average Day: Blowing Dirt//Goodshirt
04. Falling In Love: Rushes//Darius OR If God Made You//Five for Fighting
05. Love Scene: Real Love//John Lennon OR Why don't we do it in the road!?//Beatles
06. Fight Scene: Another Dimension//Liquid Tension Experiment
07. Breaking Up: Move on//JET
08. Incredibly Deppressing Love Song: Swimming Upstream//Ra
09. Getting Back Together: We can work it out//Beatles
10. Secret Love: Confessions//Usher
11. Deep Thought: Across the Universe//Beatles
12. Make Me Dance: I like the way you move//Bodyrockers
13. Last day of School: In the Summer Time//Mungo Jerry
14. Friendship: Two of us//Beatles
15. Christmas: Christmastime//Paul McCartney
16. Gaduation: Graduation//Vitamin C
17. Empowerment: Give Peace a Chance//John Lennon
18. Life Getting Better: Here Comes the Sun//Beatles
19. Sleepy: I'm so tired//Beatles
20. Religious: Surrounded//Dream Theater
21. No Words: Icarus//David Darling
22. Driving: Drive my car//Beatles
23. Stupid Mistake: Look what you've done//JET
24. Political: Revolution 2//Beatles
26. Party Scene: Helter Skelter//Beatles
26. Regretting: It's too late for goodbyes//Julian Lennon
27. Leaving: There are places//Beatles
28. Ending Credits: Let it Be//Beatles


yay!

1 week until Dream Theater!!!
Current Mood:
homework
Current Music: Set it off//Peaches

12:09 am - haven't been here in awhile and have news
yeah so I've been kinda in a bad mood recently. I don't really know why, I kinda feel like I'm falling out of important things and people in my life. I know that sounds really crappy and sappy, and I noticed that rhymed, (and chelsea has recently been sappy so I give myself rights). Anyhoo, I think it's because of Puerto Rico, I haven't seen really anyone-I saw Spike and Hannah, and so I think I sadly miss you all and school commotion. I hate admitting that. BUT I AM SO BORED!!! GAH! So I've been hanging out with out-of-wooster people. I spent the day with Rachael H. (from YG), and we went shopping and saw V for Vendetta, and attended to some important buisness. Yeah, so I also have driving stories from today. okay...

1)I was driiiiiving, and there was an intersection, and the stupid old lady in front of me and she didn't go when the light turned green, so I honked nicely and politely and she still didn't move (and I couldn't go around her because she was stopped in the middle of the damn highway) soI honked again, more loudly and less nicely, and she finally looked up from whatever the hell she was doing, and (THIS REALLY PISSED ME OFF) you know the space between the two front seats that you can see in the car in front of you, yeah. SHE FLIPPED ME OFF. LIKE WTF ARE YOU DOING, LADY?!?! YOU STUPID BITCH WHO CAN'T SEEM TO MOVE OUT OF THE DAMN WAY WHEN THE LIGHT IS OBVIOUSLY GREEN. GOD. just cuz you're old doesn't mean you can get away with everything. bitch. ahhh. sorry about that. anyhoo, me and Rachael decided we were gonna get back at her by stealing her handicapped parking thing. that would be fun.

2.) I drove past two cop cars (okay, well one was an SUV) and it was a 30mph road and I was going well.... 55mph! and yeah...I slammed on the brakes practically when I drove passed them and they didn't really seem to care...if they even noticed. HAAA I get away with everything.

uuuuuh yeah. oh! well the good news is, I was supposed to have 80 bucks ready for today, but then I didn't need any! wheeehee. ummm I'm getting kinda moody for some nice sandwich and some Roseanne or that 70's show rereuns. kinda sleepy too. hmmm. okayy nighty night!

P.S. favorite pictures that I took in Puerto Rico: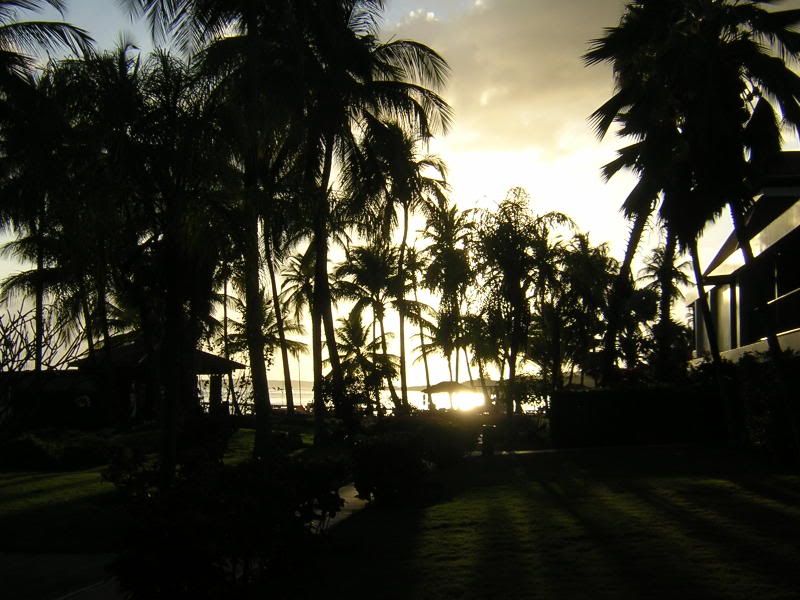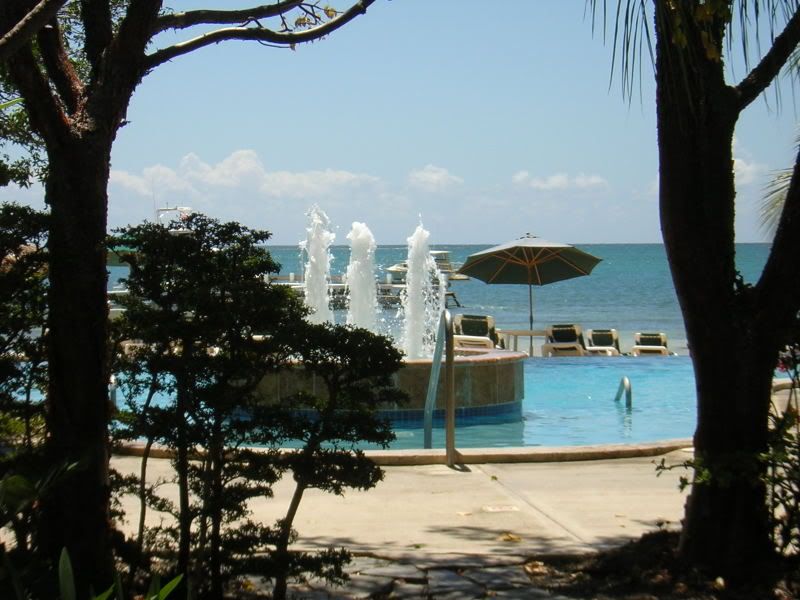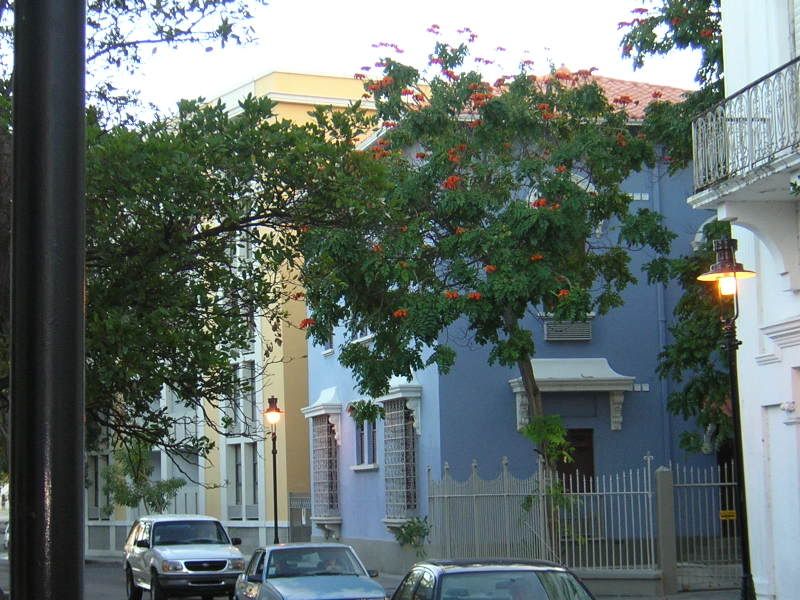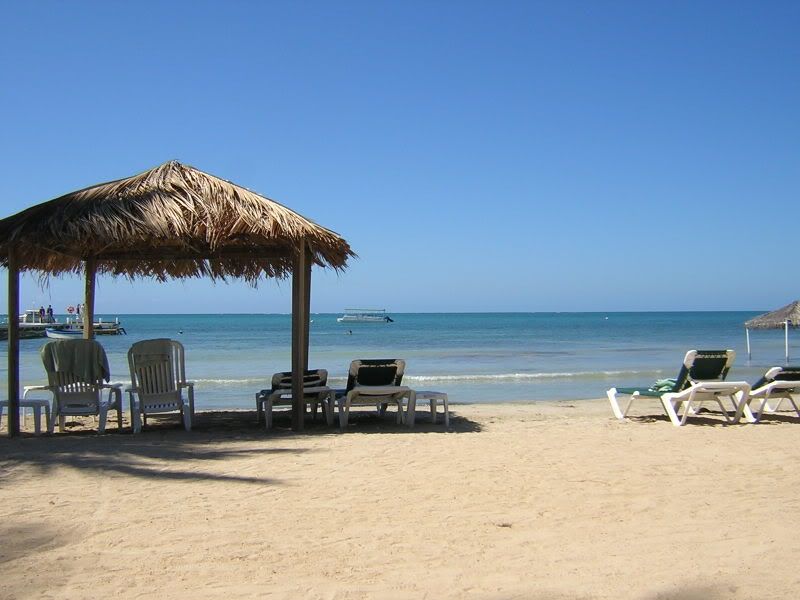 and one of me and my sisters (that I obviously didn't take):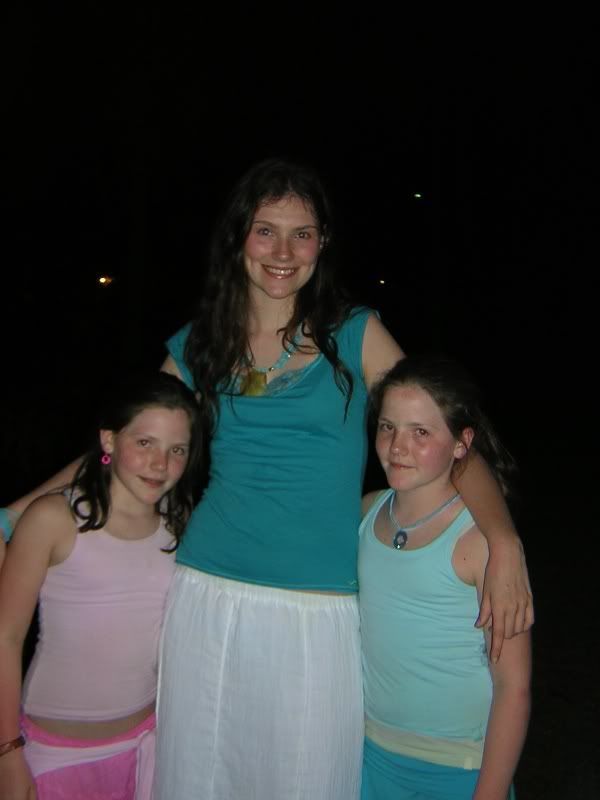 Current Mood:
eh
Current Music: Spitting Games//Snow Patrol